Best Actor at Kara Film Fest 2001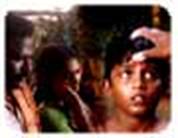 mottuka
Mottuka is a term used to describe the act of banging a clenched fist on someone's head, usually as a punishment. This is the story of an eight-year-old Arumugham and his hear of a prospective Maths teacher.
Having passed into the fourth standard, Arumugham is thrilled. His family cannot afford the new books so he must borrow them from the watchman's son, Kanniappan, who is going into the fifth standard. Kaniappan not only gives him the books, he also tells him about Ragahvan, the fourth standard Maths teacher, notorious for the Mottukas he gives at a moment's notice, causing, in Kanniappan's words, 'your head to swell up like a watermelon'.
Arumugham spends the rest of his holiday in a panic: he falls ill, his mother takes him to a doctor, he cannot eat. Kanniappan's words resound in his head reducing him to a state of utter despair. Then, the first day of this new term dawns. Arumugham sits frozen to his chair, waiting for the inevitable Mottuka to strike.

The Filmmaker

B. Lenin began his career as an associate director and negative cutter. As editor, he has edited more than 25 features and many shorts. Subsequently, he has directed 4 features, 4 short films and 2 videos. He has won many awards including the National Award for Best first Non-feature Film, and has shown his films at several International festivals, including the Greenwich Film Festival and MIX New York Lesbian and Gay Film Festival.


Directed by: B. Lenin
INDIA/2001/60MIN/TAMIL