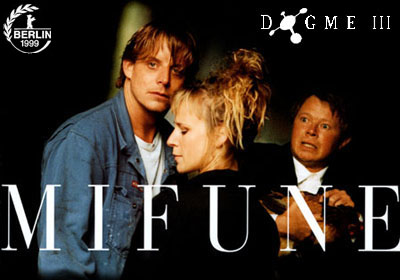 mifune
You can't lie your way out of the past
That's the basic philosophy behind Søren Kragh-Jacobsen's new film. Kresten (played by Anders W. Berthelsen) lives in Copenhagen yuppie circles with the prospect of a glittering carrer until he recieves a phonecall on his wedding night. From the depths of the country he hears that his father has died. He has trouble explaining the situation, as he has told everyone, including his wife Claire (Sofie Gråbøl), that he had no living relatives.He returns to his father's dilapidated run-down farm and comes across his elder brother, Rud (Jesper Asholt), a lonely seedy simpleton quite unable to fend for himself.
Kresten is embaressed by the prospect of having his poverty-stricken redneck past unveiled, and keeps his wife at bay with one lie after another. But the feelings that well up in him on his reunion with Rud inspire a desperate plan: To enable his return to his gilded city existence he advertises for a housekeeper to look after his brother. But when beautiful Liva (Iben Hjejle) arrives, everything is turned upside down. Because Liva isn't who she pretends she is either.
With a highly suspicious on her way to the farm, a nutty brother in the back garden, old enemies in the farmyard, and a lovely lady in the bedroom, Kresten's problems begin for real....
Nimbus Film, January 1999