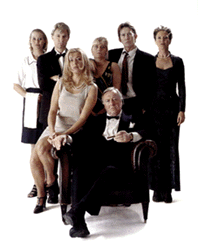 the celebration

"Summertime - and the living is easy" ........ Rich family patriach Helge Klingelfeldt is particularly anxious that thier three grown children Christian, Michael and Helene, support the party's festive mood by making a display of happy unity of the clan. Even downstairs staff is expected to somehow join in the general ambidience.
Dusk Falls, and the master of ceremonies introduces himself and announces that dinner is served. Helge is met by spontaneous outbursts of applause and song. The Guests are in a merry mood, indeed. While everyone's being seated, the kitchen staff add their finishing touches to the evening's festive meal. Fish steam, venison broil. The banquet begins.
When Christian eventually clears his throat and calls for silence only he knows what is to come. A speech to shock, a speech to shatter. The most heart-breaking night in living memory is about to descend on the unsuspecting Klingenfeldts. However, irrespective skeletons being mercilessly ripped out of the family closet stiff upper lips prevail and in a highly macabre way the party just keeps going on.
Length: 106 minutes
Format: 35 mm color
Screen ratio: Academy 1:1.37
Sound: Dolby Stereo
Dialogue: Danish and English
Year of production: 1998

PRODUCED BY:
Nimbus Film ApS in collaboration with DRTV & SVT DRAMA with support from the Nordisk Film & TV-Fond.
PRODUCTION COMPANY: NIMBUS FILM ApS
<![if !supportLineBreakNewLine]>
<![endif]>