DIGIMATION by Karitoons <Mothercode>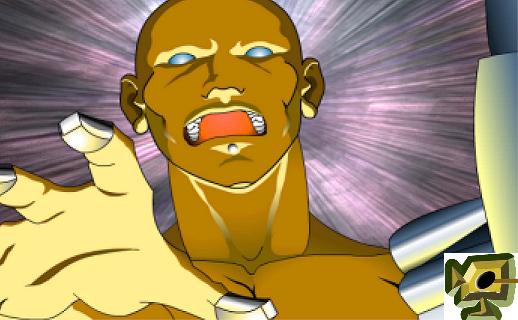 sacrilej

1. Enrick Geronia & Karitoons' PSYCHO E-NERTIA
Take a psychedelic stroll with E.
3min
2. Enrick Geronia & Karitoons' HOMO RONI
Evolution of Homo Ronicus.
1min
3. Enrick Geronia & Karitoons' MUNKY
Alien piss and human devolution.
1min 30sec
4. Karitoons' UNDER DA SEA
A fishy tale about illegal fishing.
24min
5. Enrick Geronia & Myx Escudero's THE SAKRILEJ
Synopsis:
In a dystopic and harsh wasteland of a battered civilization, one man struggles to break free from the fiendish control of a powerful nemesis. Sakrilej pits the cunning of a techno-organic man—a synthesis of flesh and machine—against an impossible legion of vicious genebreeds, the half- animal, half- mechatronic predators. With enough firepower of an assault vehicle packed in his limb, will he be able to keep his sanity long enough before the Enemy takes control of everything?

Featuring an integration of vector-based animation and 3D imagery, Sakrilej is an outstanding cinematic experience that originates from the power of current generation computer hardware and an almost boundless creative energy.
Created entirely on Athlon-powered desktop PCs, all animation, visual effects, sound editing and post-production are entirely digital. The film's running time is 8 minutes and outputed in a variety of digital formats like MPEG-2 and MiniDV.
Filmmakers:
ENRICK AL G. GERONIA has worked as a traditional 2D artist for Filcartoons, New Dawn Studios, One Shot Studios, and Kingdom Animasia. He has done animation work for a number of cartoon series such as the Hoze Hounds, Young Amadeus, Baskervilles, The Magic Pudding, and the feature film Kong. His other credits include the cover and CD art for Sony Music Philippines. He was the lead character designer and animator for Under da Sea, a feature length computer animated film. Xenophobe: Sakrilej is his second CG animated film.
MYX ESCUDERO started as a web designer and interactive media developer/designer. He has created several award winning websites and multimedia presentations. He has worked online for high profile websites such as those of Pinoycentral/ABS-CBN and International Webmasters Core. His recent projects include multimedia CD-ROMs and vector based animation for corporate clients. He was the lead animator for Under da Sea. Myx has recently ventured into 3D animation and non-linear digital video editing as well as visual effects for commercials and films.
Story and Screenplay by Enrick Al G. Geronia; Direction by Enrick Al G. Geronia & Myx Escudero; Storyboard, layout, character design, 2D animation, DIP by Enrick Al G. Geronia; Special visual effects, digital compositor, 2D/3D environments & technical direction by Myx Escudero; Sound effects, sound engineering by Ore Duce; Technical support by Rally Estrella, Eduardo Geronia Jr., Ibba Rasul-Bernardo. SAKRILEJ is based on the original comic book story "The Raw Edge" created by Enrick Geronia; Sakrilej is a joint production of Hotlead Studios, Myx Interactive, and Karitoons Productions; Computers animation hardware by Mothercode Systems. 8min 9sec.