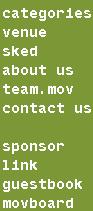 rob nilsson: master class
DIRECTOR ROB NILSSON AND 9@NIGHT FILMS
Rob Nilsson, a San Francisco based director, won the Camera d'Or at Cannes for NORTHERN LIGHTS and the Grand Jury Prize at the Sundance Film Festival for HEAT AND SUNLIGHT. He is the first American film director to have won both awards.
Nilsson is a pioneer in the techniques of video to film transfer which led to today's digital revolution. In 1985 SIGNAL 7 was the first small format video feature to be blown up to film and distributed around the world.
Nilsson is currently at work on the 9@Night film series--a unique cycle of street level dramatic feature films about the lives of 50 inner city characters. These 9@Night films are cast from the Tenderloin yGroup (formerly the Tenderloin Action Group), an acting workshop for homeless, inner city residents and professional actors now in its eleventh year.
The 9@Night Project brings together four critical ingredients:
An aesthetic based on Direct Action Cinema, a method of creating drama from character and circumstance seeking emotional depth and street level authenticity.
The Tenderloin yGroup, an ensemble of committed actors forged from eleven years of work in the streets of San Francisco's Tenderloin.
Digital technology for the production, marketing, distribution, and exhibition of high quality feature films at a fraction of industry costs.
A more efficiently produced and personally meaningful cinema that speaks from the human heart.
TENDERLOIN YGROUP
In 1991, the Tenderloin yGroup (then the Tenderloin Action Group) was born. A drama workshop for homeless people and inner city San Francisco residents, the Ygroup has met every week for the last 11 years in an atmosphere crackling with challenge and emotion. The Ygroup's videotapes of those Wednesday night sessions are a collective cry of humanity's pain, outrage, humor, joy and personal catharsis. People from all races and nationalities, bad luck, no luck and down on their luck, poor in material means but rich in human capacity sit in the 'circle of risk and protection' and tell buried truths, look for emotional bridgeheads to blow, encounter the 10,000 selves, the blood, sweat and tears of human confrontation, and bring their personal cries, songs, rants, tantrums, brainstorms, unique visions and quixotic poetry into the circle.
In 1996 the first feature film cast from this group was completed. CHALK had its U.S. premiere at the San Francisco International Film Festival, and its International debut at the Locarno International Film Festival. It has since played to sold-out audiences at international film festivals around the world and has had theatrical distribution in San Francisco, Berkeley, Portland, with upcoming dates in Minneapolis, Chicago and other major American cities.
Made with the contributions of labor, services and equipment from top flight San Francisco film artists, technicians and film/video facilities, CHALK was also financed by generous believers and benefits attended by supporters such as Boz Scaggs, Tom Waits, Gregg Allman, Gena Rowlands, and Harvey Mandel.
The long standing dream of a viable feature film as close to the street as to the bone, made with a committed troupe of unknown street actors, and a top flight crew of dedicated professionals, has now been realized. The Ygroup Workshop has now been transformed into a rehearsal and production session, where the new films are being developed and produced. Future acting workshops and other community outreach programs are being contemplated and will be announced.