january 23-30, 2002
greenbelt cinema 1, makati city
metro manila, philippines
www.mov.moviespage.com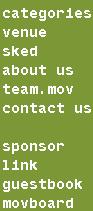 WINNER, SILVER PRIZE, JURY AWARD
Chicago Underground Film Festival, 2000
WINNER, DIGITAL DARING, JURY AWARD
Jeonju International Film Festival, Korea 2001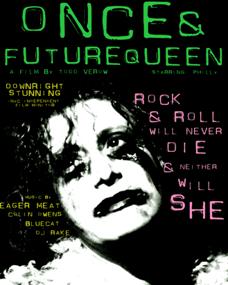 once & future queen
Anti-Matter (Philly) is the queen of nothing, the ruler of nowhere, the monarch of cyphers- in other words, she's too cool for you- but can you put her up for the night? Drifting through the Lower East Side like the death rattle echoes of rock and roll, she's on a desperate, desolate mission to get her band together and finally conquer something, anything. Her manic manipulations and chaotic philosophies never seem to gel in the present- she's either a step behind or two steps ahead- but never where she really sees herself to be- wherever that is. Her therapist (Brenda Velez) can't help her and she just wants to get drunk with her AA buddy (Eric Sapp)

Old friends (Jennifer Blowdryer, Kid Congo Powers) don't want anything to do with her and new "friends" (Lee Whittier, Tia Sprocket) simply don't know what to do with her.

Bored with the dangling fly strip tease of fame that has eluded her throughout her whole life; she's nevertheless only alive on stage; dreaming of a place where no one will unplug that amp, threaten her life or shovel her out the door in the morning. Of course her rampant drug and alcohol use, her frequent homelessness, the fact that she isn't getting any younger and that she's been married more times than Liz Taylor doesn't help any. As her connections to reality slip away in the haze of her traveling sideshow lifestyle, the inferno of celebrity and self-destruction seductively beckon.

Todd Verow's ONCE AND FUTURE QUEEN is a woman destined to be at the wrong place at the wrong time and somehow making that into a fashion statement. If you've ever felt used and abused, under appreciated, scraped off the sidewalk or simply horny, Anti-Matter has some advice for you. She's been there, done that and didn't give a shit. Or so she says.
Starring: PHILLY as ANTIMATTER
WRITTEN & PRODUCED BY JIM DWYER, TODD VEROW & PHILLY
DIRECTED BY TODD VEROW