FRACTAL COW by Dino Ignacio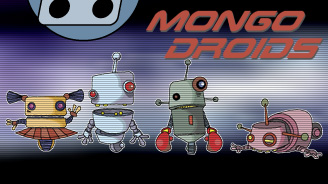 TEST TUBE THEATER
1. We Come In Cheese (1min)
2. Britney and T (30sec)
When icons collide!
3. The Revelation (1min)
4. The Green Machine (1min 20sec)
More than meets the eye!
MONGO DROIDS
In an age of intelligent, efficient, reliable technology where TVs record your favorite shows automatically and wordprocessors know the English language better than college graduates. Mongodroids are a balancing reaction to this exponential advance in technology!
1. Bridge Out (50sec)
Slow tries to get across. With Mike Ricca.
2. The Magnet (1min)
Magnet Fun. With Nina Torres.
3. New Battery (45sec)
4. Kitty Love (40sec)
A little lesson in loving too much.
5. Beach Fun (40sec)
Our pals go on a beach party! With Mike Ricca.
6. Halloween (35sec)
Nice gets the shock of her life.
7. Kitty Love 2 (2min)
In this episode, we meet Super Robot Zonrox. The season finale of MongoDroids.