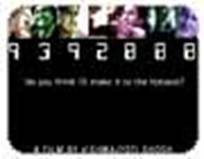 9392888
Every night, dot at nine, from Monday to Thrusday, a premier television channel offers you one crore rupees. Try your luck, test your general knowledge and this is your chance to make it big. Really big.
9392888 is a documentary that looks at three characters coming from different backgrounds who are bitten by the Crorepati bug. The documentary does not attempt to be an intellectual critique but rather a contemporary video documenting the most popular dream of our times, which now comes packaged with glamour, a bit of general knowledge and entertainment
The Filmmaker

Vishwajyoti Ghosh lives and works in New Delhi dividing his time between graphic design, illustration and daydreaming. This is his first film.



[Dir: Vishwajyoti Ghosh; INDIA/2001/30MIN/ENGLISH]